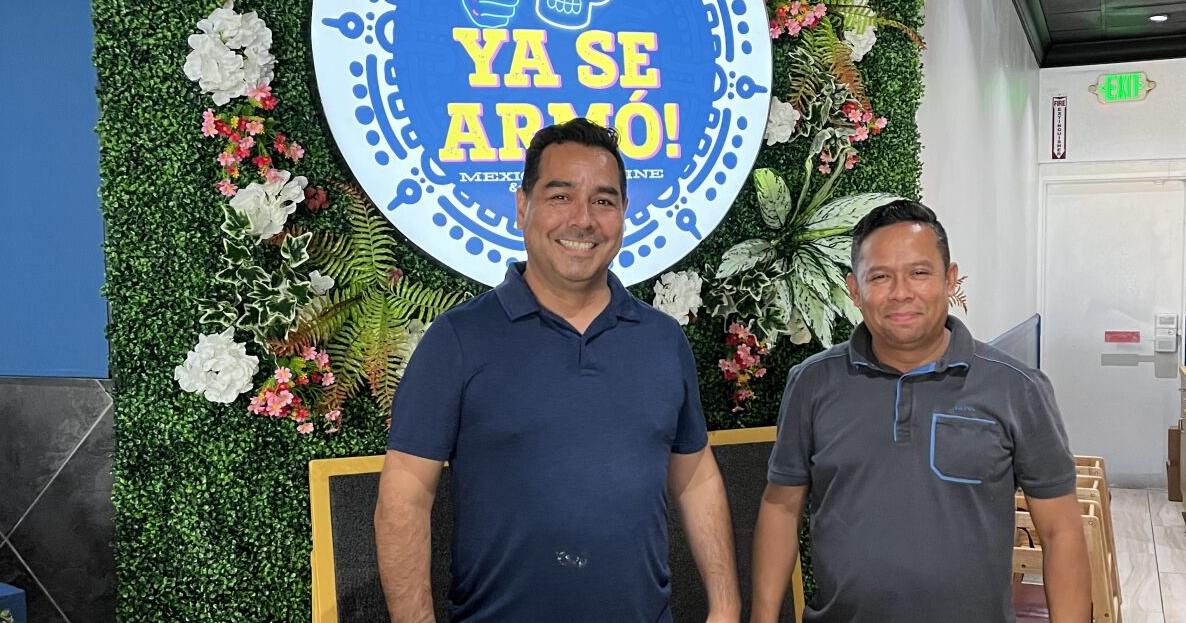 A new Mexican restaurant in Palm Harbor revisits traditional dishes | palm port
PALM HARBOR — Ya se Armo translates to "It's On" or "Let's do this" in English. It's also the name of a restaurant that opened about five months ago in Palm Harbor that puts a new spin on traditional Mexican cuisine.
Leonardo Guerra and Miguel Cuevas met several years ago in North Carolina, where Cuevas ran a restaurant and Guerra worked as a food supplier. They became friends and discussed opening a restaurant for years.
Guerra moved to Pinellas County seven years ago, and when Cuevas visited him recently, they decided the time was right to open Ya se Armo.
The restaurant is on the corner of US 19 and Alderman Road in Palm Harbor, and is tucked away in the corner of a strip mall. But if the location is rather ordinary, the atmosphere and the food are far from it.
"The menu, presentation, food style and food profile are very different from your traditional Mexican restaurants here," Guerra said.
Chef and co-owner Cuevas has been in the restaurant industry for over 20 years and previously owned French and Mexican restaurants in North Carolina.
Born in Acapulco, Cuevas learned to cook from his grandmother and great-grandmother. His dishes are based on these traditional recipes, but he adds his own unique style.
"The style comes from different parts of Mexico. Every part of Mexico has a different culture and style," Cuevas said.
Ya se Armo's menu features traditional Mexican dishes, but what sets it apart are the specialties.
"One of the dishes that best helps describe our style is our mole," Cuevas said. "It is inspired by the estates of Oaxaca in Mexico and uses 32 different ingredients."
Another house specialty is ceviche, according to Cuevas. There are two different types on the menu.
"There's the Aguachile, which is based on white fish. We use mahi mahi," he said. "The other is inspired by an Acapulco cocktail."
For those looking for more traditional Mexican fare, the menu features a "De Los Gringos," or American section, with entrees including fajitas, quesadillas, and burritos.
All sauces, salsas and even desserts are made from scratch, Cuevas said. One of the most unique and popular desserts is Saquito de Guayaba. It's guava, cream cheese, banana, and cinnamon sugar wrapped in a flour tortilla and served with vanilla ice cream on the side.
The bar serves a wide variety of tequilas and mescals mixed with fresh ingredients and fruit juices.
Starting in September, Ya se Armo will offer special menus that change monthly and showcase cuisine from different regions of Mexico.
Ya se Armo is at 35114 US Hwy. 19 in Palm Harbor. Hours of operation are Monday through Thursday 11 a.m. to 9:30 p.m., Friday and Saturday 11 a.m. to 10:30 p.m., and Sunday 11 a.m. to 8 p.m. A special brunch menu is available on Saturday and Sunday, and catering is also available.
For more information, call 727-286-8400 or visit www.yasearmomex.com.