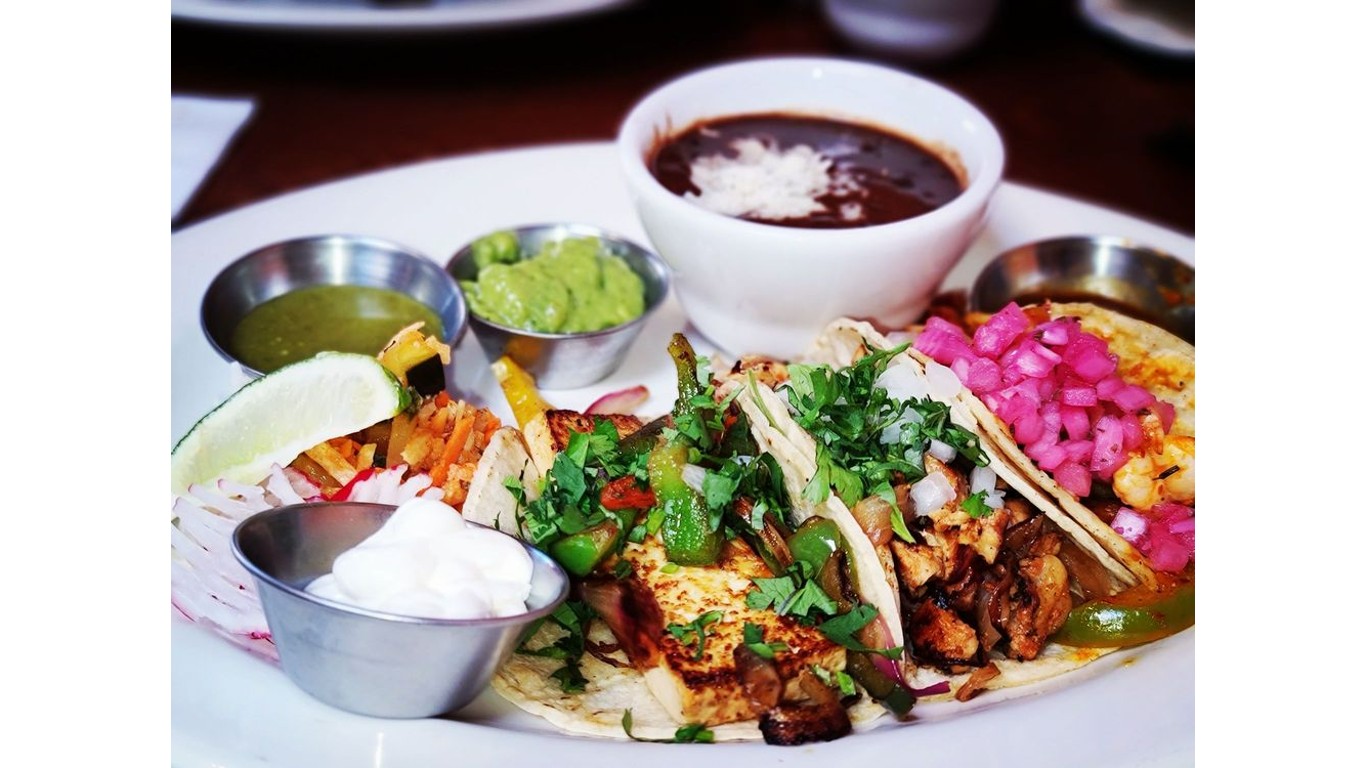 Best Mexican Restaurant in Every State – 24/7 Wall St.
According to figures compiled by DoorDash, the nation's largest food delivery service, the food Americans missed the most during the pandemic lockdowns and restaurant closures was Mexican. In addition, according to the company, three Mexican-style dishes were among the 10 most frequently ordered dishes for home delivery in the first six months of last year – breakfast burritos, spicy shrimp tacos and chicken fajitas.
If further proof is needed that we love Mexican food in this country, Mexico came in second to Italy as the country with the best food overall, according to Ranker readers responding to a survey conducted by the site two years ago. And Mexican cuisine is the second most popular "ethnic" cuisine in the United States after Chinese cuisine – and the favorite in some 27 states – according to an analysis of Google searches of different cuisines by the website Chef's Pencil.
Of course, "Mexican" can mean different things to different people: sea urchin tostadas with bone marrow salsa at Cosme in Manhattan; black mole chorizo ​​enchiladas at Guelaguetza in Los Angeles; a five-item combo plate in the national chain Chevy's Fresh Mex; even a keto salad bowl with adobo chicken at the ubiquitous Chipotle or a Mexico-first creation like a Quesarito or Crunchwrap Supreme at the local Taco Bell.
To identify the best Mexican restaurant in each state, 24/7 Tempo reviewed the nationwide top-rated restaurants in the Mexican category on Yelp. To be considered, restaurants had to be located in or near a city of at least 100,000 people. In states with few or no cities of this size, restaurants in small towns were also considered. Chains of more than a few units, food trucks, take-out locations without seats, pan-Latin or Central American establishments, and restaurants specializing in Korean-Mexican and other hybrid cuisines were eliminated from the list, just like Mexican markets unless they have restaurants in store.
Click here to see the best Mexican restaurant in each state
The resulting list includes establishments of all types – sleek contemporary restaurants, family-style neighborhood spots, stripped-down counter-service establishments. Some specialize in the cuisines of specific regions of Mexico. Some offer the standard fare we've come to expect, but especially well done. Some are inspired by the palate of Mexican flavors and invent their own dishes.
These restaurants range from casual to sophisticated, Americanized to authentic, but each is a place you'll want to try.
Sponsored: Tips for Investing
A Financial Advisor can help you understand the pros and cons of investment properties. Finding a qualified financial advisor doesn't have to be difficult. SmartAsset's free tool connects you with up to three financial advisors who serve your area, and you can interview your advisors at no cost to decide which one is best for you. If you're ready to find an advisor who can help you achieve your financial goals, get started now.
Investing in real estate helps diversify your portfolio. But expanding your horizons can come with additional costs. If you're an investor looking to minimize expenses, consider checking out online brokerages. They often offer low investment fees, which helps you maximize your profits.