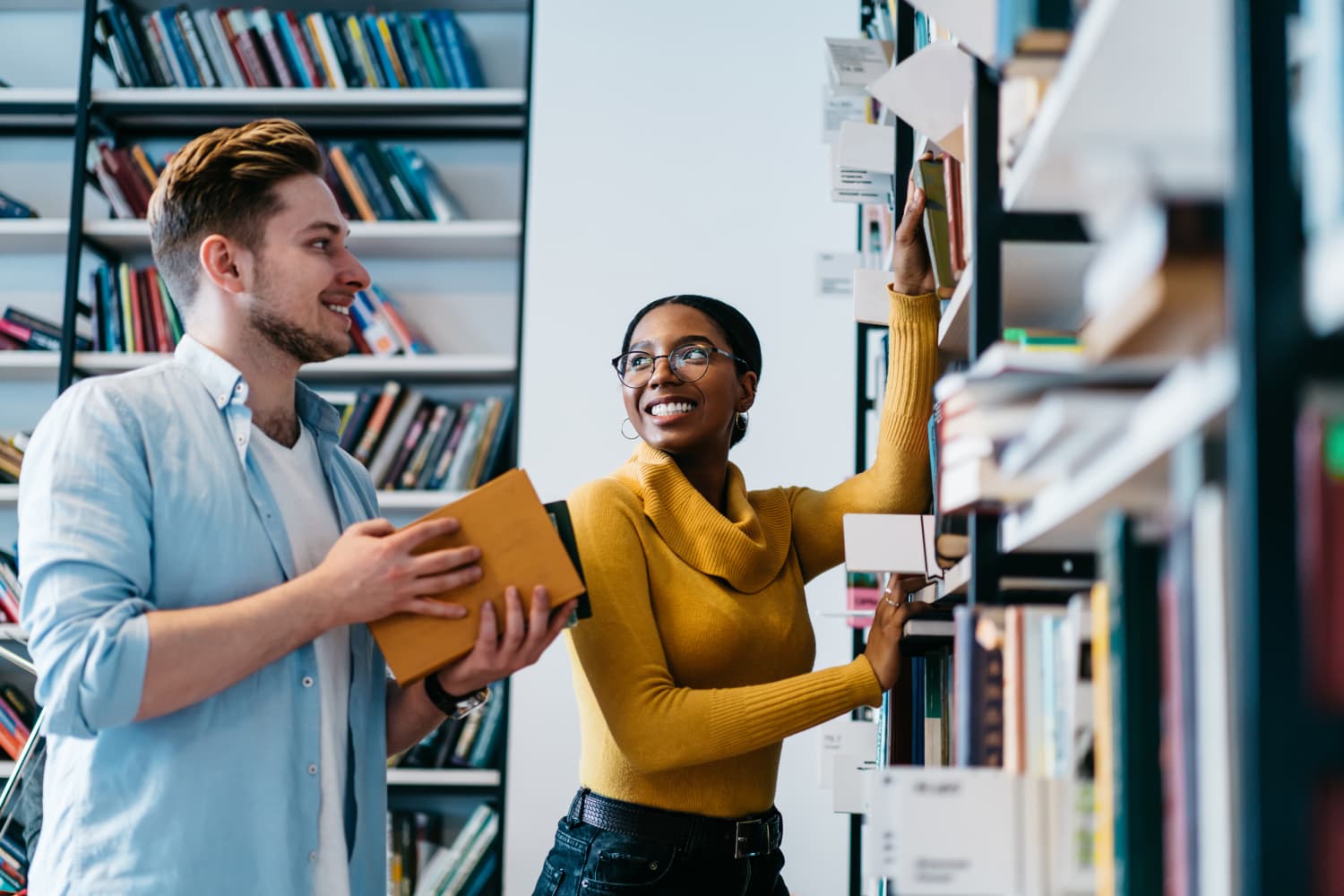 Librarians recommend their favorite books for National Library Week
We select these products independently. If you buy from one of our links, we may earn a commission.
Not to be too "Matilda" about any of this, but I love the library. I was the kid who checked ten to fifteen books at a time ("Yes, I will read them all! ), participating in the annual summer reading challenge, and signing up for the variety of programs offered by my local branch throughout the year (I think I still have my child care certificate somewhere go). And so I'm obviously still excited about National Library Weekan annual celebration hosted by the American Library Association to promote the importance of libraries to all readers and their communities.
This year's theme is "Connect to Your Library," so I took the opportunity to connect with librarians across the country to learn more about the book they think (almost) doesn't. any reader would like. Visit your local library this week and pick up one of these titles (but they're linked below if you'd rather own them forever).
"I was very impressed with 'A Gentleman in Moscow'. Towles reflects on what it means to be loyal to people and I find that I usually read it once a year. I find food in it – it stands up to re-reading, if it's something you like to do. — Mark Moore, librarian at the Cleveland Public Library
"This is a family biography of the Grimkes, who lived here in Boston but were originally from Charleston, South Carolina, and they were involved in the abolitionist movement. It spans several generations [of their family]. It's really fascinating and easy to read, yet very informative and I recommend it to everyone I know. I'm also involved with a book club called Boston by Book and pushed this title so well that they asked me to lead the book discussion on this in June! — Elisa Birdseye, librarian at the Adams Street branch of the Boston Public Library
"I know…yes, it's library week, so why choose a book called 'The Personal Librarian', but this book is amazing!" It is about a woman, Belle de Costa Green (née Belle Marion Greener) who is the personal librarian of the famous JP Morgan. This historical fiction book is about Belle de Costa Green, known for her vast knowledge and intelligence of art and books. She is hired to run the Pierpont Morgan Library in New York. In addition to being a woman, she also hides that she "passes" for white, because she was born black. I appreciate the work of Marie Benedict and Victoria Christopher Murray who bring Belle's story to life. — Britainy A. Montague, library assistant at the Lincoln Library in Springfield
"It's a documentary about someone who grew up in Washington in a Mexican immigrant family and worked in an apple packing plant. He discovers a movement called "The Peace & Dignity Journey" and participates in a marathon [that goes] from Canada to Guatemala. The book is really accessible and locally relevant to Washington – right now there's a farm workers' strike, so it's even more timely. —Seattle Public Library Ballard Branch staff member
"'Slaughterhouse Five' is beautifully written, sad but funny, heavily satirical and just something everyone should read at least once. This is my choice for: adults looking for something different and non-stereotypical, the reluctant reader in need of a classic for schoolwork, children transitioning from young adult books to adult books (the science fiction is really suitable for crossing reading levels), or customers who usually read non-fiction (this is a way of recommending a WWII fiction book). It's short, it explores humanity at its best and its worst and all the ambiguity in between, streaked with hope and love, which is the best reason to choose a book. — Bethany Ronnberg, librarian at the Scottsdale Public Library
"I can't help but recommend 'Medusa'. This story is a myth reimagined from Medusa's perspective, and it's a young adult novel with plenty of adult appeal. Give this book to teens and adults who are ready for an old story in an amazing new skin. — Andrea Lipinski, Senior Young Adult Librarian at Kingsbridge Library
"Before reading it, I believed in the interdependence of things, but the book has really reinforced that feeling. It has changed the way I think about trees and the planet – when I look at trees, I think about what I you can't see. What's below the surface is even more important than what you see above the ground. I think you can learn a lot about reading fiction books – they open you up to different perspectives and different perspectives. — Margaret Miles, Fairfax Branch of the Marin County Free Library
"'Living with Viola' is a graphic novel. The story is about a young woman struggling with anxiety. The book is aimed at older children, maybe 9/10 years old. It was one of the books I enjoyed on the BIPOC 2021 committee, I loved its realism and it would be very useful and relevant for a child who might be going through this. — Ann-Marie Braithwaite, Children's Librarian at Parkchester Library
"It's instantly identifiable, to anyone who is (or was) in middle school. It perfectly captures the in-betweenness of middle schoolers, the still playful yet incredibly mature and insightful kids, and the in-betweenness of the frame of the time after school, between the last bell and the ride home, where children are unsupervised and allowed to be themselves, even unwittingly.It's subtle in its storytelling, with each story and the entire book leaving the characters about to change. It's incredibly well done, without a single out-of-place sentence or unnecessary word. It's short enough for anyone to read. I laughed, many times. cried, many times. It's a perfect book." — Julia Erlanger, librarian at the Sacramento Public Library