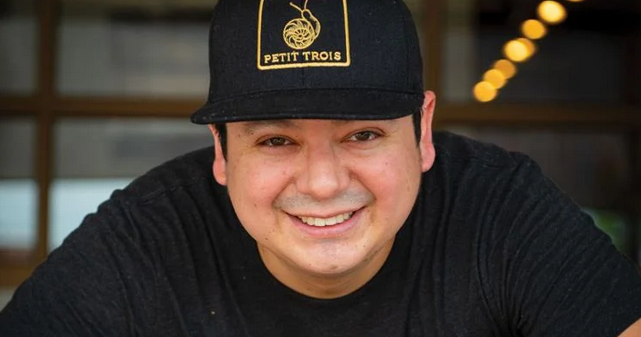 Mexican restaurant opens in 2022 in Gulch development | Development
Chef Julio Hernandez and Chopper Tiki and Barista Parlor owner Andy Mumma will open Mexican restaurant Maiz de la Vida in the spring of 2022 at Paseo South Gulch.
SomeraRoad, which owns the property and is undertaking the development of several mixed-use buildings, announced details on Thursday of the future restaurant, Maiz DLV to be a nixtamal-focused taqueria and tequila bar. The menu will include tortillas, quesabirria (a cross between a taco and a quesadilla), street tacos, tamales, elote (Mexican spiced corn on the cob) and mezcal (an alcoholic drink derived from 'agave).
Once open, the restaurant will serve brunch, lunch and dinner, reportedly from the Paseo South Gulch Antiques building. Maiz DLV will operate from 3,000 square feet of indoor space, highlighted by rolling doors that connect to an outdoor patio.
The terms of the lease were not disclosed in a statement.
It should be noted that Hernandez got his start with Mumma by opening a food truck in front of the latter's Chopper Tiki in East Nashville. Hernandez conceptualized Maiz DLV as a way to recreate the corn tortillas of his youth in Tlaxcala, Mexico. For the masa, Hernandez sources organic corn from Oaxaca and follows a millennial tradition of making masa (ground corn dough) by hand.
"Chef Hernandez and Andy will provide a destination establishment that will be sought after by those seeking the finest, freshest Mexican heritage ingredients paired with the finest tequila and mezcal-based bar menu in Nashville," Jonathon said. Reeser, director of acquisitions for SomeraRoad. in the release. "Paseo South Gulch prides itself on being at the forefront of consumer tastes, focusing on tenants who provide high-quality, original, and accessible offerings."
Maiz de la Vida will join GoodVets, which has already opened on the Paseo in the Antiques building at 620 Eighth Ave. S., and recently announced tenant Two Hands, an all-day Australian cafe based in New York (read more here).
Paseo South Gulch (find out more here) will eventually offer two mixed-use towers that will join the Antiques Mall (retail) and The Bill Voorhees Co. (office) buildings, with the structures to be connected by walkways and terraces. The towers will offer a collective of 620 residential units, 18,000 square feet of offices and 14,000 square feet of retail. The property sits where The Gulch and Pie Town overlap.
Paseo South Gulch office space is leased by Charlie Gibson of Cushman & Wakefield, with Elam Freeman of Ojas Partners leading retail leasing.
Learn more about Hernandez here at To post sister post Nashville Scene.