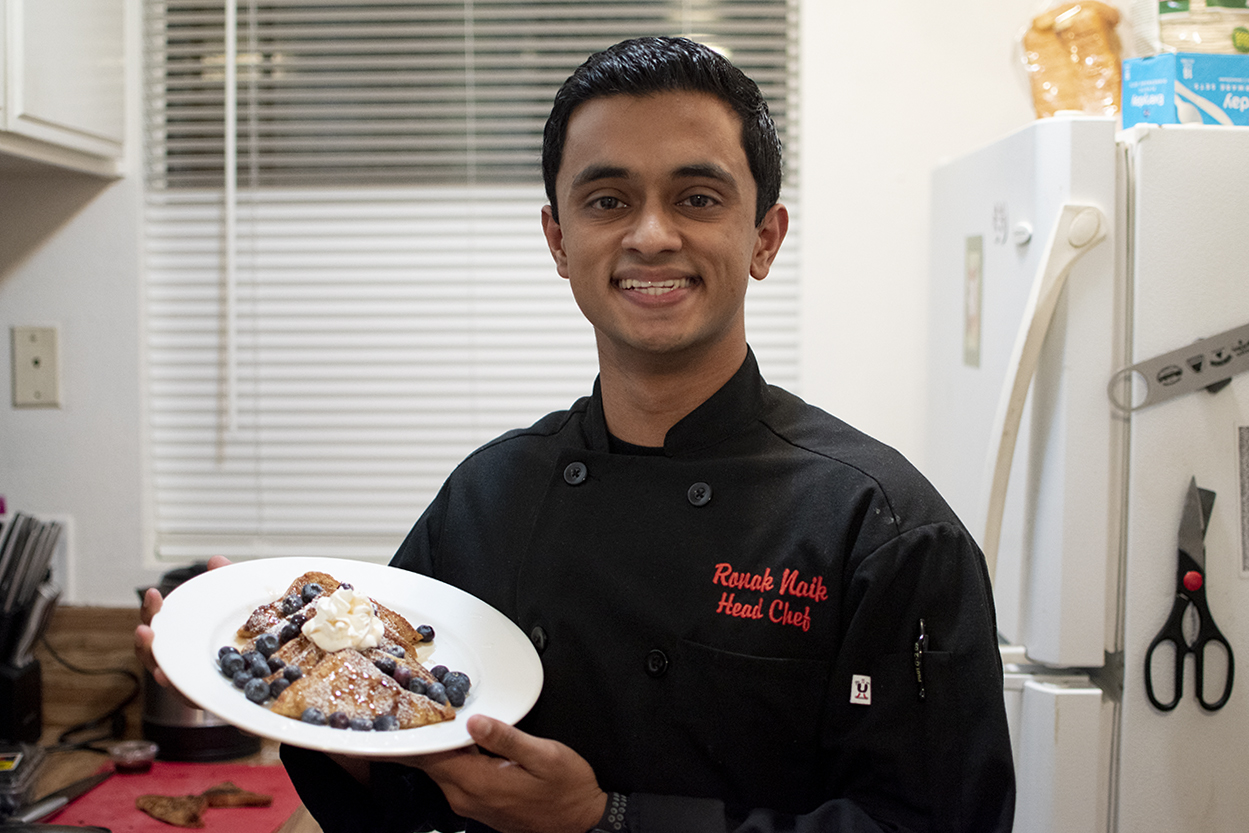 UCLA student channels his passion for cooking in a pop-up apartment restaurant
Ronak Naik offers original recipes on a DIY plate.
A longtime lover of cooking, the 3rd year neuroscience student invents his own dishes and posts his creations and the recipes that accompany them on his Instagram food account. In addition to taking personal requests, Naik runs a pop-up restaurant out of his apartment in Westwood each quarter, the most recent of which was on Saturday. He said his passion for sharing food comes from his mother, who taught him how to cook when he first became interested.
"When I was young, I always had a sweet tooth, so I started baking," Naik said. "My mother is a very big cook, and in Indian culture, food is quite important. … As I got older, I moved mainly from baking to experimenting with more complex dishes and stuff away from just desserts.
Although he still makes a variety of desserts, Naik said he try as many different cuisines as possible, such as savory Indian and Thai cuisine. However, he has stated that his favorite dishes are Italian and Mexican, as he thinks he is the best at cooking these cuisines. His last original the creation was an Italian burrata salad, which consists of a pesto sauce base with quartered Roma tomatoes rolled out from the burrata cheese.
[Related: Student dishes out lighthearted restaurant reviews on Instagram food blog]
Having always cooked for his family and friends, Naik said the reason he created a separate Instagram account was to continue to share his food with others, even when he was not with them. He said he lists all the ingredients with step-by-step instructions so those interested can recreate the dishes, which for the most part contain easily accessible ingredients. This decision also sets his posts apart from other cooking accounts, which Naik says only upload photos of their finished products.
Knowing Naik since middle school, third-year astrophysics student Yash Gursahani said he saw Naik's inclination for cooking blossom during the lockdown caused by the COVID-19 pandemic. Gursahani said Naik often finds new recipes to try and posts the results to his account. to catalog his dishes before the account was made public at the request of Naik's friends for the recipes. Gursahani said Naik began to rely less on instructions and started coming up with his own ideas once he gained confidence and learned more skills.
"Even now he is making a dish and has leftover sauce from the day before, the next day he will find a way to use it in something else," Gursahani said. "He's really developed a lot of intuition about which flavors work well together, and I think that comes from the experience of the last two years."
Naik said that when he goes out to a restaurant, a dish, technique or dish he likes usually inspires him to create something new on his own, because he uses it as a model to learn from. He said he also learns new skills by watching competitive cooking videos and shows such as "MasterChef," as he admires Gordon Ramsay and uses his clips to learn next-level techniques.
Although he pursues cooking as a personal hobby, Naik said owning a restaurant one day would be the icing on the cake, which is how he came up with the idea of ​​hosting pop-ups. quarterly and treat them like a restaurant. Knowing other restaurants were doing pop-ups, Naik said he started his own pop-up as a nonprofit for the American Cancer Society at UCLA. The pop-up is being advertised on Instagram and by word-of-mouth, and Naik said he's donating all proceeds to the charity's Relay For Life event.
Naik's other roommate, Jack Shea, a third-year political science student, said he saw the number of clients increase with each fundraiser. As the restaurant's host, Shea said he greets people at the door and walks them through the ordering process. He said he explained the menu, how to order using Google Forms and payment – which is on Venmo Naik's account using printed QR codes displayed around their apartment.
[Related: Hiyo seeks to elevate sober experience as alternative to alcohol]
Naik said he normally tries to tailor each pop-up to a specific theme to make the experience more enjoyable for customers. The theme for Saturday's event was brunch, as it featured breakfast items such as brioche French toast, oven-roasted house potatoes, brown sugar crispy bacon and glazed caramel and lattes of mocha. Shea said food is packaged in cardboard boxes and guests can either eat in the apartment or pick up the takeout boxes once they get their orders.
For the upcoming spring pop-up, Naik said he already knew what cuisine he wanted to feature next: Mexican cuisine. As he continues fundraising, Naik said he hopes to expand his Instagram further by potentially collaborating with other cooking accounts or uploading TikTok videos of him creating his food. Ultimately, his end goal with online publishing is to compile all of his recipes into one cookbook, he said.
"Food is the number one thing across the world that unites everyone from different cultures," Naik said. "At the end of the day, despite everyone's differences, every person on the planet will sit down and eat. It is the basis of who we are.