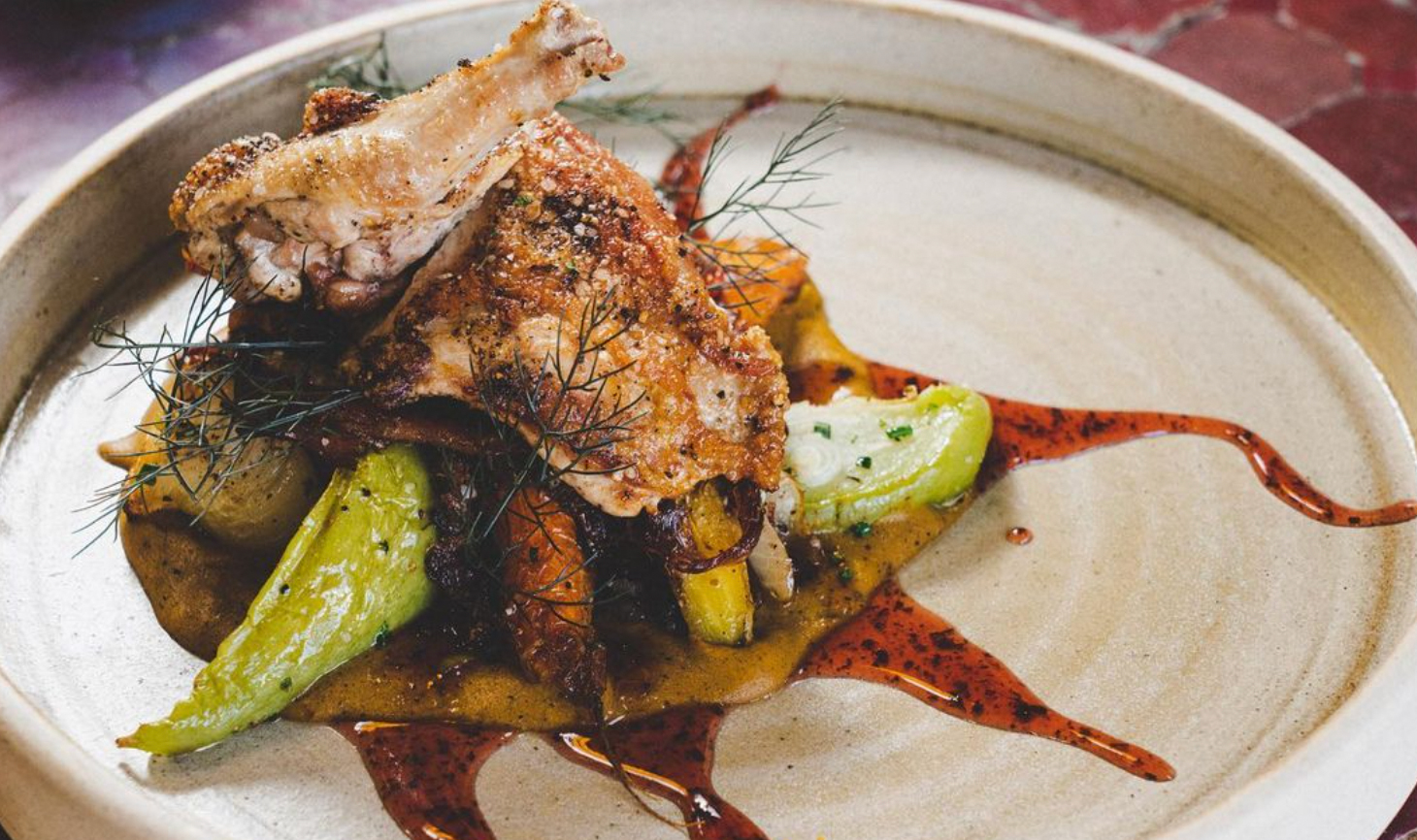 Upscale Mexican restaurant Mirame in Los Angeles will open its second
miracleChef Joshua Gil's two-year-old Beverly Hills famed Mexican restaurant is planning a second NorCal location — and it'll be in the new spring line development in Menlo Park which has also attracted Che Fico and Burma Love from SF to open new spots, as well as Robin, the Hayes Valley sushi spot.
Mirame opened in July 2020, and it's the latest buzz-worthy project for Gil, who grew up in Rosarito Beach, a coastal town on Mexico's Baja Peninsula, a short drive south of San Diego. Gil earned a Michelin star early in his career as a chef at Joe's restaurant in Venice, and later opened the famed Tacos Punta Cabras, which closed in 2017.
After Mirame's debut, serving dishes like crispy salmon skin "chicharrons", grilled albacore avocado tacos and a tostada with pressed pork face salumi, Eater LA critic Bill Esparza , said it "might be the most exciting new restaurant to open during this pandemic-riddled year in Los Angeles." (Esparza was a big proponent of what he dubbed Alta California cuisine, which he describes as the blending of traditional Mexican ingredients and techniques with the styles and ideas of modern California cuisine, such as farmers market produce etc. And Gil was featured in Esparza's 2017 Book on the subject, THE Mexican.)
Now, like the chronicle reportsMirame is set to expand north, and Gil and partner Matthew Egan have signed a deal for space at the Springline complex, which is still under construction at 1300 El Camino Real in Menlo Park.
Describing the food, Egan says, "This is what we call the next iteration of Mexican cuisine." And he tells the Chronicle that just as the Beverly Hills location uses relationships with SoCal farms to create its menu, the Bay Area location will also leverage farms in that region.
Egan was looking to expand into the Bay Area, and he heard about Springline and its bustling lineup of restaurant tenants from his friend Desmond Tan, owner of Burma Love and Burma Superstar. He tells the Chronicle that, aside from the list of roommates, Springline made sense because Menlo Park's affluent demographics are similar to Beverly Hills.
And, Egan notes, the new restaurant will share a wall in the Springline complex with Barebottle Brewing Co., and they plan to let brewery customers order food to go with their beers, and vice versa. In addition to this third Barebottle location, the development will also feature a take-out food provider outpost Proper Food Co., and Canteen, a new restaurant from Chef Greg Kuzia-Carmel of Menlo Park's Camper.
Springline developer Presidio Bay Ventures is banking on these big restaurant names to attract residential and office tenants to the new mixed-use complex. Residential leasing begins this summer, but it's unclear which of the restaurants will open first. Mirame aims to open in 2023.